Welcome to the USS Wolff NCC-80140!
In the years following the end of the Dominion War, Starfleet began stepping down from a military footing and began to revert back to the Exploratory role that was it's mainstay for the better part of two centuries. Vast areas of space once inaccessible to the Federation came open and ships were sent out into the far reaches of space to explore.

Enter the Wolff. Designed originally as a long range explorer intended to operate for extended periods in the Gamma Quadrant, her class was shelved during the war in favor of more combat oriented designs. The end of the war brought a renewed urgency for explorer designs, and with an updated design, ships of her class began coming out of the shipyards in greater numbers.

We operate on the edge of known space, away from the relative safety of the Federation core worlds. The unknown confronts us every day as we fulfill Starfleet's Motto "To seek out new life and new civilizations, to boldy go where no one has gone before."
Latest News Items
Posted on Mon Feb 11th, 2019 @ 3:48am by Captain Taliserra Tigran in General News
We're kicking things off with some good posts, The post Dinner and politics by myself and Kim won Post of the month for January.




Posted on Mon Feb 4th, 2019 @ 7:01am by Captain Taliserra Tigran in Simm Announcement
Well, it is one year to the day that I took over and restarted the Wolff and I think we've had a cracking first year with 5 bronze units of distinction, a couple of post/player/writer of the month and of course our Xo winning writer of the last quarter and of the year.

Hopefully this year we can turn some of those bronze awards into silvers or maybe even golds.

After this mission with the Yatal and Kurai is resolved I plan on having us doing some exploring as thats what our ship is designed for. If anyone has idea to make things more during the next mission I'm open to suggestions and even full on subplots etc, just shoot me and Kim a Pm or shout at us on the Discord and we can discuss it.

Other than that, thank you to all of you for your hard work and lets keep it up through this year.

Jamie.
Posted on Sun Jan 13th, 2019 @ 3:43am by Captain Taliserra Tigran in Simm Announcement
Some of you will have seen this on our discord channel but congratulations are in order once again especially for our amazing XO Kim.

She was awarded with the Writer of the Quarter.





AND Writer of the Year.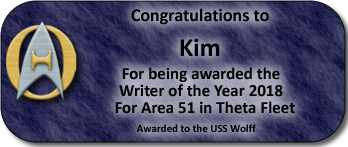 And while it wasn't for her actions on the Wolff Marilyn (Wells) Also won player of the year, so congratulations are in order for her as well.
Posted on Thu Dec 27th, 2018 @ 12:27pm by Captain Taliserra Tigran in General News
Please welcome Ian who will be taking over conrol of the Wolffs engineering department with his character Lieutenant Jason Voss
Posted on Tue Dec 11th, 2018 @ 7:38am by Captain Taliserra Tigran in Simm Announcement
I personally thought november was a slow month for us but we still won a bronze unit of distinction.





And congratulations to our Xo Kim on winning writer of the month!